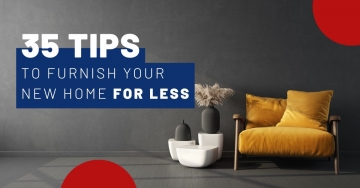 35 Tips to Furnish Your New Home for Less
Buying a new home is one of the most exciting experiences in life. And if you're like most homebuyers, you'll be planning your furniture placement and decor before the ink dries on your offer letter.
But before you run to the nearest home goods store, take a deep breath. First, you'll need to delay any major purchases before you close on your new home. A large outlay or additional line of credit could lower your credit score and, thus, impact your mortgage terms.1 Second, moving and closing costs can...