Lynn
---
Lynn is the 5th oldest colonial settlement in the Commonwealth. It was settled by colonists from the New England Company in Salem in 1629.
The land, named Saugus, was divided into 5 seperate communities. I n 1637 they named their community Lynn. It became a city in 1850.
Leather tanning became a major industry very early on encouraging growth in the shoe industry and a factory district was created as well as shoe workers' neighborhoods of boardinghouses.
In 1892, the Lynn-based Thomson-Houston Electric Company merged with the Edison general Electric Company to form the General Electric Company.
While Lynn developed its industrial capacity, summer estates were being built along its shore establishing the city as a resort area.
Lynn was long referred to as the "City of Sin", owing to its historical reputation for crime and vice but it was also the City of Firsts.
1629:The first Tannery in the US began operations in Lynn.
1847:Lynn Astronomer Maria Mitchell was the first woman inducted into the Academy of Arts and Sciences.
1875:Lydia Pinkham, a Lynn resident, was the first woman to use her image to sell a product. The Lydia Pinkham Vegetable Compound.
1888:The first Electric Trolley in the state ran from Lynn.
1912:The first Airmail Delivery in New England flew from Saugus to Lynn
1942:The first Jet Airplane Engine in the U.S. was built at Lynn's General Electric plant in.
Lynn is the largest city in Essex County with a population of approximately 89,000 it occupies about 13.53 sq mi and there are several neighborhoods contained within the Central, West Lynn, and East Lynn areas.
Public and open spaces include the oceanfront Lynn Shore Reservation; Frederick Law Olmsted-designed Lynn Woods Reservation; and the High Rock Tower Reservation. Lynn also is home to Lynn Heritage State Park, the southernmost portion of the Essex Coastal Scenic Byway, and the seaside, National Register-listed Diamond Historic District.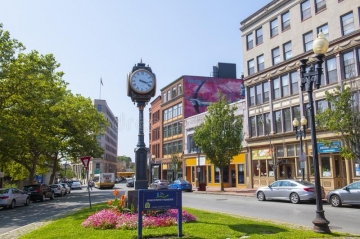 Lynn Single Families