A Landlord's Responsibility in Renting Residential Real Estate
---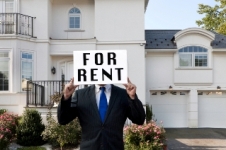 By Gina S Soldano Broker/Associate,
ABR®, AHWD®, e-PRO®, GREEN, MRP®,
PSA®, SFR®, SRES®, SRS®, REALTOR®
I bet you thought this was or should be about a Tenant's responsibility when renting an apartment since they are the ones doing the renting. But no - Landlords share in the contract and therefore have a shared responsibility.

Alas: A Landlord's Responsibility in Renting Residential Real Estate. The Tenant version is soon to follow.
You would think this is obvious but of course when you hear a statistic like 1 in 4 people under the age of 35 do not know how to change a light bulb ( I am not making this up 1 source: https:// www.homeserve.com/help-advice/electrical/how-to-change-a-light-bulb) nothing should be assumed.

Landlords need to consider two things:

1. Am I providing a reasonably safe, healthy, and clean environment for a Tenant?
2. Would I rent this apartment for me and my family in this condition for this rent?
For some Landlords multifamily houses are just investment properties for others it is also their residence and sometimes those two distinctions can affect the view of the Landlord. A Landlord who is living on the property sees firsthand the conditions and the environment surrounding the property day in and day out making problems hard to ignore. Whereas an absentee Landlord can fall into the old adage "out of sight out of mind" letting the care of the property take a back seat
Landlords have their own reasons for owning multifamily properties for some it is a part of their retirement others a part of their investment portfolio and yet others a means to make owning a home more affordable. Whatever the reason you would think pride of ownership would be a factor in the upkeep of the apartments but not always.
It is that fact that has led cities and towns across the country to require that Landlords obtain Certificates of Occupancy or Certificates of Habitability thereby insuring that Landlords take responsibility for their apartments.
So what are a Landlord's responsibilities, well, as a Realtor® and a Landlord myself, here is how I see it:

1. Do your part in finding a good Tenant to begin with (you can always hire a Realtor®).
2. Minimally you need to fulfill all of the state and city codes required for renting out an apartment.
3. Provide a reasonably safe, healthy, and clean environment for your Tenant.
4. Everyone wants a pleasant space to live in so try to keep it fresh even if a coat of paint is all you can afford.
5. Charge an appropriate rent. If you are going to charge for the Taj Mahal you had better provide the Taj Mahal.
6. For the benefit of both you and your Tenant respond to maintenance calls promptly.
Remember if you ask yourself "Would this apartment be good enough for me and my family?" it can help guide you as a Landlord. For the most part responsible Landlords are usually lucky enough to attract responsible Tenants.
Gina S Soldano is a REALTOR® with
ERA Millennium Everett, Massachusetts.
Copyright 2014. All rights reserved.